Introducing Team DeltaQuadrant
Hello! We are Maren and Julia of Team Delta Quadrant. We'll work on Diaspora*.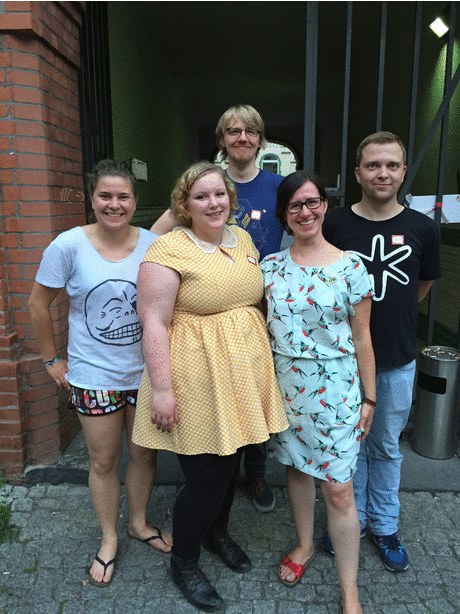 L-R: Lisa, Julia, Finn, Maren, Christophe (Image: Anika Lindtner)
Why "Team Delta Quadrant", what does it mean?
Julia: I'm a Star Trek fan! Voyager is my favourite Star Trek Series and is really worth watching. It's about Captain Janeways crew getting lost in the Delta Quadrant. which means 70 years away from earth (Alpha Quadrant) and their search for a way home. That was the inspiration for the team name.
How did you hear about the SoC and why did you apply?
Julia: A friend of mine went to the Rails Girls Beginners' workshop and told me afterwards about this cool summer programme, that I should apply for. Currently I'm in my last year of university (studying applied computer sciences) so it is nearly time to find a 'real' job. But I didn't feel ready yet for a developer position so three months of intense coding would be excellent! I teamed up with my friend Lucie. A few days before the application closed I had to heavy-heartedly part with Lucie since she got an amazing job offer. I didn't really think that I could find someone else with only two days left to meet the deadline but I tweeded anyways. And that's how I met Maren :)
Maren: I am part of one of the Rubymonstas one of the first Rails Girls Berlin learning groups. Sven Fuchs one of our coaches was one of the initiators of Rails Girls Summer of Code. So I saw it developing over the last years. Last year I was already part of the programme as a mentor of speakerinnen.org. This year I saw Julia's tweet as she was spontaneously looking for a new pair to work with. I think it was fate :) - two days before the deadline. I finally applied because I wanted to spend more time coding as I did until now. On the one hand to have more time to learn and on the other hand to get more routine in coding.
What project are you working on?
We are working on diaspora - a decentralized and privacy oriented social network. We picked some open issues that we will work on during the next months: show the geo-location of a user on an Open Street Map, improve picture uploading, create a moderator role and improve the interaction with the tumblr API. We published our project plan here.
What are you most looking forward to this summer?
We are very happy to have the opportunity and the luxury to spend a lot of time on learning new things and to improve our programming skills and routines. We also like working in a team with different people and so we are really looking forward to work with our lovely coaches Andi, Bastian and Finn, our mentor Lisa our special-supporter and diaspora developer Christophe and our supervisor Verena. Not to forget Aakriti and Timo who offer us desk space and support in their office at blacklane!
Find us on twitter to keep updated on our work @anderspree & @zaziemo.