Introducing Team RailsGEnthusiasts
###The Beginning of a Wonderful Journey
Hello to everyone from Sofia, Bulgaria :)
We are Sophia and Boryana - Team RailsGirlsEnthusiasts (RailsGEnthusiasts) and our coaches Andrew R., Marta R., Tsvety M. :)
###Who are we?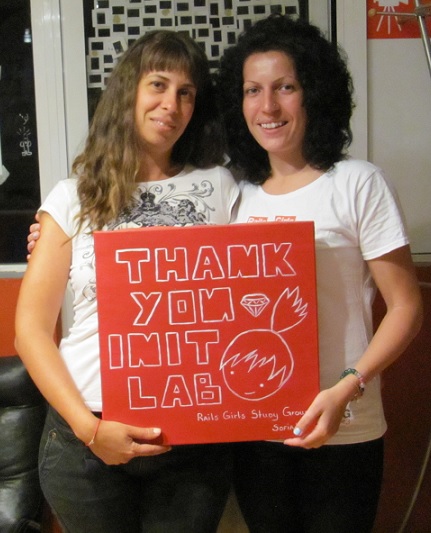 Sophia & Boryana, RailsGEnthusiasts Team (Image: Sophia & Boryana)
#####Sophia: After finishing my Master degree in Economics, I have worked mostly for IT companies as I was engaged mainly with sales & marketing activities. Last year I decided that it is time to get knowledge inside, I mean to know how the software programs and systems work. That is why I took the decision to start learn programming and to learn how to create apps myself. First I started to learn HTML & CSS at the beginning of 2014. I learned about the Rails Girls Sofia event, but I missed the one held in March 2014. I applied for the next one in October 2014. I was really very happy to see the confirmation e-mail and it was the beginning of my learning process. After the event I started to visit the local study groups in Sofia, which were organized by the main organizer of the Rails Girls Sofia event – Dimitar Dimirov. I have visited the study groups each week since then.
#####Boryana: My work has nothing in common with my education and my education has nothing in common with programming :) Everything started all of a sudden :) By chance I saw a friend of mine I haven't seen from a very long time. Her name is Siana and few days later she called and told me about Rails Girls Sofia and the study groups and wanted to take me there. I didn't want to go but I had promised, so I went, luckily :) The people there changed my life :) I've never thought I would be doing something like that, but here I am studying, learning, coding, smiling and feeling wonderful :)
###How did we hear about RGSoC?
Actually, our coaches (Dimitar Dimitrov and Marta R.) from the study groups told us about this program just before the Easter Holidays. They said "It would be a great opportunity for a fast start in the world of technologies." So, during the holidays we were busy preparing our applications for RGSoC and successfully applied at the very last day :)
###Why RailsGirlsEnthusiasts?
Well, the name of our team speaks for itself about our big enthusiasm for learning how to code :) <%= we_believe_in_our_skills %>
###What are we working on?
Our project is RubyGameDev.com with owner and our mentor Andrew Havens. It's a community-driven, information hub designed to help people build games in Ruby. Some of our tasks are:
Create guides/tutorials section
Improvements on current features
Creating new features
Updating pages, etc.
###What are our expectations for this summer of code?
We have big expectations and we know we have to work hard to achieve them. We really want to learn coding, to create different software programs and apps. We want to lay the basis of our future career development as RubyonRails developers.
Thank you TheOryx.com for inviting us to share your great working atmosphere.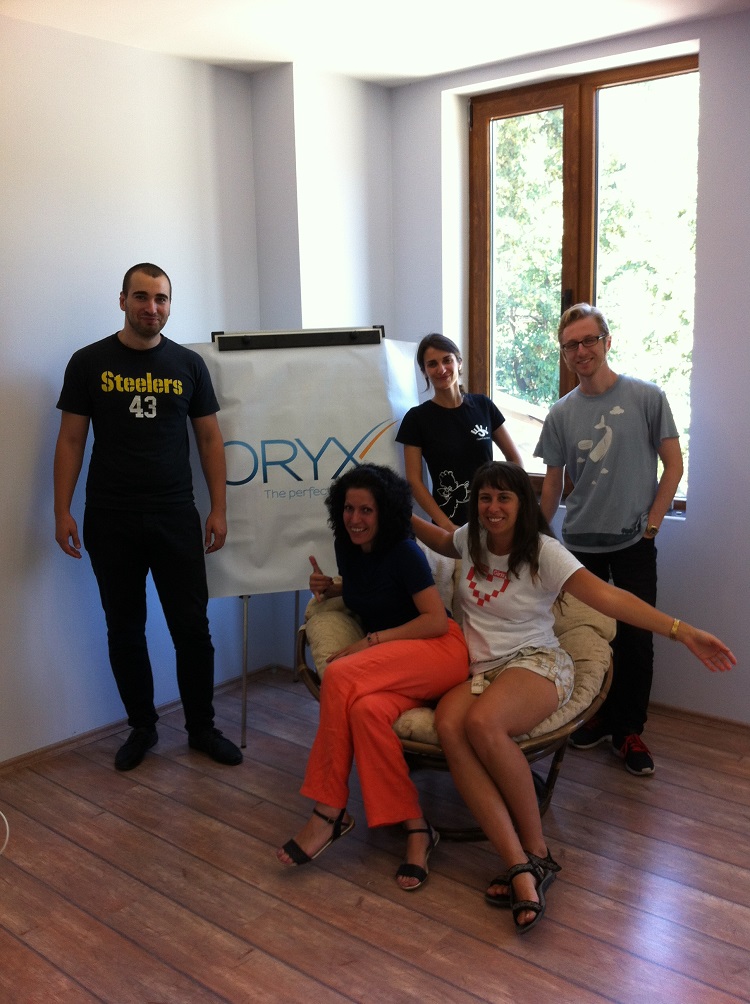 In the left - Petar (TheOryx), Boryana & Sophia sitting in the middle, behind us our coaches Tsvety and Andrew (Image: Sophia & Boryana)
###If we could code anything in the world, what would it be?
#####Sophia: I would like to create an app for people with different disabilities which can connect to each other. The app will have many features and will offer to the people different possibilities, which can make their life easier.
#####Boryana: I don't know yet… Let's learn first… :)
#####Thank you RGSoC for giving us this great opportunity!!! :):):)