More 2016 teams? Aye!
Do you want more awesome news? Here we go!
We have managed to get FOUR extra teams on board this year!
Last week we announced seventeen RGSoC 2016 teams. Unfortunately, one of them (TeamASU) has cancelled their participation for personal reasons. As much as we feel sorry when someone can't do the Summer of Code after being selected, we are super happy to greet new teams. Now we have twenty in total! This is truly amazing, isn't it? Remember, all of it became possible due to your support: the money you sent us over the last few weeks opened up the possibility to sponsor 2 teams and support 2 volunteer teams. Thank you for making this happen!
And now, meet our new teams!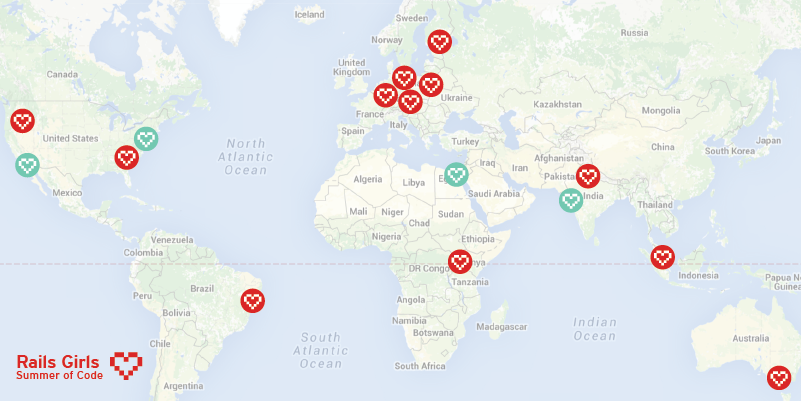 All of our 2016 teams (updated)! (Image: Ana Sofia Pinho)
Sponsored Teams
Hackbrighters (Patricia and Melissa)
Location: San Francisco, USA
Project: Lektor CMS
Ruby's secret (Nada and Mayar)
Location: Cairo, Egypt
Project: Exception Notification
Volunteer Teams
B'More Stunners (Ashley and Ore)
Location: Baltimore, USA
Project: Bundler
Crackers (Nishtha and Nikita)
Location: Gandhinagar, India
Project: WeCare
The Summer of Code is almost here, and we are waiting for it impatiently!